Christmas season is coming up, which means it's time to start thinking about the things we could get out loved ones to help them along their way, and brighten their days in the year ahead.
Read on for our recommendations.
For the total beginner, climbing equipment starts with three main items:
A pair of climbing shoes ($80-$175)
A climbing harness ($40-$100)
A chalk bag ($10-$30)
It's hard to go wrong by gifting ANY of these items to a new or aspiring climber — although gifting the chalk bag without the accompanying shoes is a little mean.
I'm going to recommend a few items in each category.
Climbing Shoes
I'm a huge La Sportiva fanboy myself, so all three pairs I recommend come from this one manufacturer. Y'all know I'm a fan of Italy, and La Sportiva represents some of Italy's finest. Their climbing and mountaineering gear is top-notch.
There are some cheaper brands available in this category — but not all are quality. I guarantee any of the options listed below are reliable products that will leave you or your climber happy.
Ask your climber what size they wear, or size down one whole size from street shoes. Climbing shoes fit tight, and should be worn without a sock.
La Sportiva Tarantulace ($80)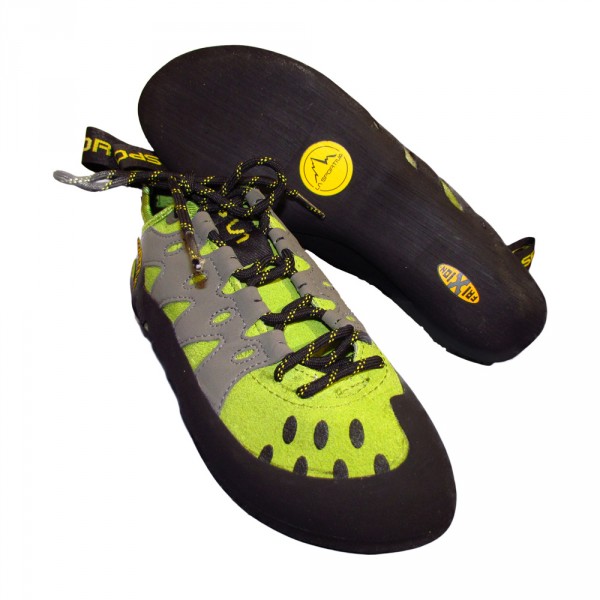 The Tarantulace is a good, affordable beginner shoe. If you aren't sure your giftee is going to stick with climbing, I'd recommend going with these. They beat rental shoes by a long shot, and are relatively affordable.
Buy on Amazon — $80
La Sportiva Mythos Eco ($145-$155)
These were MY first pair of climbing shoes, and six years and two resoles later, they're still getting me up easier multipitch climbs outside. The Mythos are a solid all-around shoe. Still good for a beginner, but they will perform a bit better as you start to advance to more challenging terrain.
These come in two variants: the basic Mythos, or the Mythos Eco, which is made out of recycled materials. The Mythos Eco will cost you $10 more. Conscience do cost, as they say.
Buy La Sportiva Mythos on Amazon ($145)
Buy Mythos Eco shoes on Amazon ($155)
La Sportiva Miura Velcro ($175)
These are high-end sport climbing shoes — and the price reflects that. These are perfect shoes for a person who has climbed a lot indoors, and wants to continue pushing their grades. Most climbers will want an overturned shoe like the Miura when they start climbing routes in the 5.11-5.12 range (6b+), or bouldering at v3 or higher.
I recommend the velcro over the lace-ups for newer climbers, as being able to take your shoes off in between climbs at the climbing gym is super nice.
Buy Velcro Miuras on Amazon
Climbing Harnesses
For a beginner climber, or a gym climber, you can go very basic on the harness. Spending lots of money on a harness is an activity reserved for high-end climbers with specific needs. If your giftee is just getting into climbing, a basic harness will serve them fine for many years. By the time it wears out (if it ever wears out), they will know exactly what they want out of a new one.
So here are my budget climbing harness recommendations:
Black Diamond Momentum Harness ($50)
This was my first-ever harness. I used it and abused it for five years, until it started to fray so much that my climbing partners begged me to buy a new one. Great beginner piece of hardware, I never had any complaints with it.
Black Diamond is an American brand, based in Salt Lake City Utah. All their equipment is manufactured in the USA, if that matters to you.
Buy it in a bundle with a belay device, carabiner and chalk bag for $100
Petzl Corax Harness ($60)
Another popular beginner harness, the Corax is made by Petzl, a very reknowned French mountaineering company. It's a competent and cheap beginner harness that will absolutely keep your climber safe.
Kids Climbing Harnesses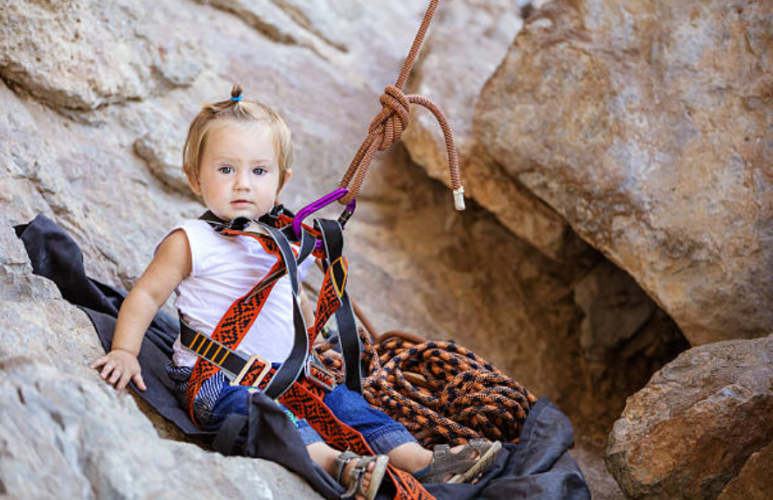 There are a few options for kids too small to fit into adult-sized climbing or mountaineering harnesses. First, there are child-sized harnesses that look identical to adult ones, but are just smaller, like the Black Diamond Wiz Kid. Then there are toddler harnesses, such as the Edelrid Fraggle II, which have both waist and chest straps.
I'm not a parent, and generally loathe small children, so I can't really speak to these. But there are links above, if you want to check them out.
High-end climbing harnesses
Just for kicks, here are a few top-of-the-line harnesses to check out:
Chalk and Chalk Bags
Climbers use chalk to keep their hands from sweating. You tend to get a little sweaty at great heights. Luckily for would-be gift-givers, chalk bags are a cheap climbing gift!
Chalk Bags
Chalk bags come in all shapes and sizes — well, no, really they come in one shape… and mostly one size… but they come in all sorts of fun colors and patterns!
You can buy chalk bags off Amazon (here's one with a cool llama on it), but I would encourage you to go to your local outdoors shop and check out what they have.
And sorry boulderers — no one needs a chalk bucket.
Climbing Chalk
You have two main options here:
It's all chalk… more or less. Which you need to buy will depend on how much your kid buys into the marketing.
Crash Pads
If your giftee is a "boulderer", they may have asked for a "crash pad" for Christmas. Crash pads are basically small foam mattresses which can be carried on a person's back. Climbers hike these "crash pads" to the base of small, 10-20 foot-tall boulders (3-7 meters). Since the routes are short and close to the ground, they are climbed without ropes. The crash pads provide some measure of safety.
The best pads in the US are made by Organic Climbing (in our opinion). They can take a while to ship, so if you're hoping to get one to put under the tree, we would hurry up and order. Shipping from Organic can be a bit expensive as well.
If you want that sweet Prime free 2-Day shipping, you can buy this Mad Rock crashpad on Amazon for $175.
Conclusion
In my opinion, the La Sportiva Tarantulace climbing shoes are the single best gift for a beginner climber. Having your own pair of shoes is the moment you can start to consider yourself a "climber" — and the Tarantulace are a great entry option.
For someone who has been climbing for six months to a year, I recommend the Miuras — they are AWESOME shoes, which any semi-serious climber will appreciate.
The harnesses and chalk bags are good alternatives if your climber already has shoes, or someone else is covering that particular gift.
While these are great gifts for BEGINNER climbers, they will be of little use to more serious climbers and alpinists. We'd recommend asking these people directly what their needs are.
Happy holidays and enjoy your shopping!
Links in this post are Amazon Affiliate links, from which I earn a small percentage if you make a purchase. Affiliate links help support this website.
Pin It!