One of the biggest hurdles to getting into outdoor climbing is simple: outdoor rock climbing gear is really expensive!
Why is climbing gear so expensive?
The answer is basic economics: climbing is a niche sport, with very passionate users. People who are addicted to climbing will pay whatever is asked to get their fix.
Ask any true outdoors junkie — they'll give you a sad nod and say yeah, that's true.
But you don't have to pay full price for everything. On this page, we're going to share with you the best way to get real discounts on your climbing gear.
Backcountry.com
Backcountry.com is the currently the best place to buy cheap climbing gear online. If there isn't currently a sale on Backcountry, you can rest assured that there will be one soon. While prices for items like Black Diamond Camalots, climbing nuts, or Petzl Ice Tools are often slashe dby 30-50 percent on Backcountry.com, you can actually get even better savings by signing up for Active Junky, a loyalty site that partners with Backcountry.
Enter Active Junky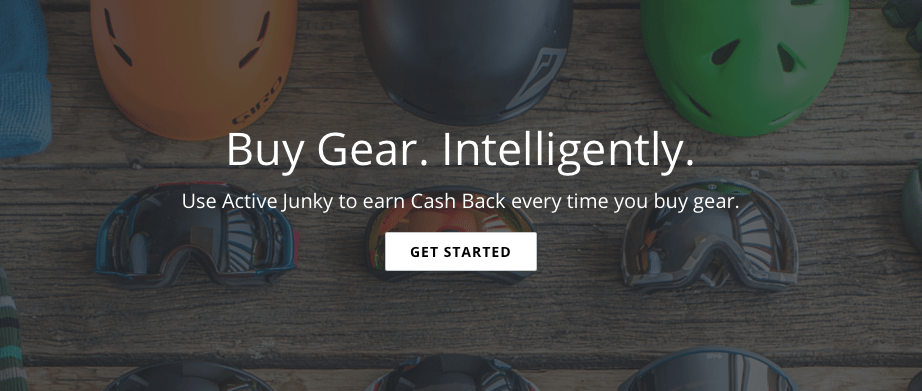 Active Junky is a cashback site dedicated to outdoors retailers, including popular and high-quality brands like Backcountry.com, Patagonia, Arcteryx, and more.
Sign up is super easy! Just enter an email address and choose a password, and you can start earning cashback immediately. Sign up through this link, and you'll earn a free $10 cashback bonus after your first purchase!
Why Should I Use Active Junky?
Why add an extra step into your purchasing flow? The math is simple — outdoor climbing gear is expensive, and Active Junky gives good cashback rates. For example, Active Junky members get 8 percent cashback on all purchases made on Backcountry. And if you're spending hundreds of dollars on a starter trad rack, for example, that eight percent can add up quickly. Let's demonstrate:
For example: a starter set of Black Diamond Cams. Every aspiring trad climber will want to buy these exact pieces, sooner rather than later. So they're a good, real-world place to start.
On Amazon, these puppies will put you back $315
On Backcountry? $262 (at time of writing)
What's eight percent of 262? 21 dollars! Nothing to sneeze at, especially since it only takes a few extra seconds to start shopping for your gear on Active Junky, instead of directly on Backcountry.
You can get great cashback rates
While the prices on Backcountry are usually quite good, Active Junky also partners with other sites, where you might find even better prices on different types of gear. For instance, Active Junky offers 12 percent cashback if you buy skis from skis.com.
For an expensive purchase like new skis, that 12 percent can easily add up to fifty or even a hundred dollars, if you are going to buy an expensive backcountry skiing setup.
The Long and Short of Buying Outdoors Gear Online
There are a lot of great options for buying discounted outdoors gear online. Basically, in our opinion, you should never pay full price for any piece of outdoors kit. It's expensive enough at the discounted prices — be willing to look for sales, jump through a few hoops, and use cashback programs like Active Junky to get the best prices.
Let's be honest: you're still going to spend all your money on gear. But if you shop smart, you can afford a few extra pieces. After all, those quickdraws aren't going to be much good without a rope, are they?
Whatever you buy, we hope it brings you many year of outdoors happiness.
What About Buying Used Gear?
Buying used gear is an option, but we urge you to consider a few things before buying used outdoors gear — especially used climbing gear. Check out our article on buying used versus new climbing gear, here.